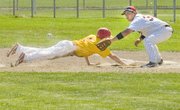 Big innings by the other team again plagued the Sunnyside Grizzly baseball team yesterday, Monday, in 12-0 and 22-0 losses to visiting Kamiakin.
Both contests ended after five innings due to the 10-run mercy rule.
In the opener, Sunnyside looked good in the field in the first inning. The Braves had to manufacture the run with some small ball, two singles and a pair of stolen bases.
That changed in the second frame, when Sunnyside pitching hit three batters and Kamiakin pounded out four runs to take a 5-0 lead.
Sunnyside was no-hit in the opener as the Braves pulled away for the victory. Kevin Lee and Aaric Bright both saw time on the mound for the Grizzlies in game one.
In the nightcap, Kamiakin got all the runs it would ever need with a 10-run outburst in the third inning fueled by three hit batters and a Sunnyside fielding error.
Sunnyside's only hit of the day came in the third inning of game two, when freshman Tim Martinez smacked a double. He was the only Grizzly base runner to get into scoring position.
Jeremy Rodriguez, Ricky Palomarez, Sam Romero and Joel Ortega all pitched for Sunnyside in game two.
Grizzly baseball's senior day will be this coming Friday when the winless Grizzlies host Southridge. Coach Terry Shines said it is senior day because the last home date of the season, next Tuesday against West Valley, is during parent/teacher conferences.
With only the pair of twin bills remaining on the 2012 schedule, Shines says Sunnyside (0-10, 0-16) will continue to work on basics in practice.
"We're going to work on our swinging technique...go back to game situations," he says. "We're going to work on communication between infielders and outfielders."