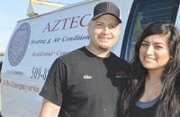 GRANDVIEW - For Elias and Maria Milanez, owners of Aztec Heating and Air Conditioning, offering customers the best products at affordable prices is a priority.
That's why the company is now a Lennox dealer, according to Mr. Milanez.
He said there are more than 20 Lennox heating and air systems available, including a system that is operated with solar energy. It has its own solar panels for added efficiency.
"Owners of the system can earn energy and tax credits," said Mr. Milanez.
He said it is an option for customers who want an environmentally friendly product.
In addition to the many heating and air conditioning systems offered by Aztec, Milanez believes in providing a high quality maintenance service to customers.
He said maintenance of systems is just as important as maintaining a car.
"Over time you just don't know how efficient the system is operating," said Milanez.
"Most important is changing the filter. A lot of people believe they have to change it every 90 days. That's not necessarily true because when a system is operating on a daily basis, especially in the summer, it can become dirty much faster," he said.
Milanez first started his business seven years ago. He was the dealer for Goodman and Coleman products, but has changed his focus to Lennox products.
"Lennox is the number one system. I wanted customers to have the best product with quality customer service and affordable prices," he said. "Local residents don't have to look to a larger, out-of-town company."
Milanez said the move is just one more way he strives for success.
He immigrated to the U.S. in 1979 and was a farmworker, alongside his family for many years.
"I realized I didn't want to do that all my life, so I continued to challenge myself," said Milanez.
His drive to become successful in life led to an education in HVAC.
Milanez initially worked as a technician for another company, but wanted to feel the sense of independence that comes from owning and operating one's own business.
"I didn't see much opportunity working for someone else and wanted to see myself succeed," he said.
With the success he has experienced as a business owner, Milanez said he is always seeking ways to improve the business for the benefit of his customers.