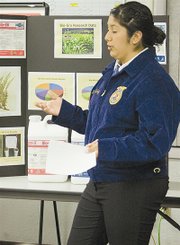 MABTON - Students in the Mabton High School FFA program are getting real world experience in the ag business thanks to help from Bio-Gro, an organic fertilizer company located near the town.
Last night, Monday, FFA students made their presentation on behalf of Bio-Gro to the Mabton School Board, a tune-up before the students compete at State next month.
The students noted that Bio-Gro's product line includes liquid fertilizer made from fermented nettles and sagebrush.
One of the students presenting, Vanessa Sanchez, said enzymes from the two plants produce a fertilizer that can increase yields by 15 to 25 percent.
With Bio-Gro's cooperation, the FFA students even conducted a business survey of those who use the wholesaler's product.
Sanchez said the survey results showed growers tend to use Bio-Gro's product in the early to late spring.
Those buying the product from retailers, students learned, are not only from the Northwest, but Michigan, Wisconsin, California and internationally in Canada and Ireland.
Among the recommendations FFA students discovered through their research are that Bio-Gro should increase production at its Mabton-area plant and develop a dry formula application in addition to the liquid fertilizer now offered.
Sanchez noted the benefits of Bio-Gro's product include the organic label and that its application reduces the risk of E Coli.
Bio-Gro even gave Mabton FFA students a glimpse at the bottom line for a few of its product lines. The high schoolers estimated last night that some of Bio-Gro's products have the potential for a more than 200 percent return on investment.
The Mabton FFA chapter's work with and on behalf of Bio-Gro's marketing team will be presented during competition at the Washington state FFA convention to be held May 10-12 on the WSU campus in Pullman.