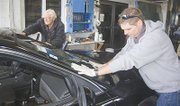 Chris Albrecht says it all started with a handshake on April 1, and that's no fooling.
That's the day in 1972 when his family got started in the glass business in Toppenish. Over the past 40 years Albrecht Glass has expanded to Sunnyside and Prosser.
Albrecht, a longtime Sunnyside resident, had previously been in the radiator business when he learned of an opportunity to purchase a glass shop in Toppenish.
A handshake agreement sealed that deal and the quality of Albrecht's work spread to the point that nearly 30 years ago they expanded to Sunnyside and about 15 years ago to Prosser.
He says both expansions came at the request of customers in those cities who had been traveling to his Toppenish location.
He says the secret to Albrecht Glass' success comes down to hard work and family.
"You don't stop working at 5, you stay with it till the job is done," Albrecht says. "You work evenings and weekends."
A first-generation American whose mother came from Germany and father from Switzerland, Albrecht praised the many ways family has made the glass company thrive over the past four decades.
Albrecht says sons Tony and Steve and daughter Kristy worked "for nothing," to build the business up in the early years.
He says the family work ethic was inherited from his father. "My dad had a dairy farm and he never took a paycheck."
Albrecht's first wife, Beverly, kept the books for 28 years before her death and his wife today, Barbara, continues to help the family business.
Today Steve runs the Sunnyside shop, while Tony operates the Prosser and Toppenish locations.
"It's all part of having an investment in your home town," Steve says. "I want to see Sunnyside prosper. If the town prospers we all benefit."
He notes a key to the longevity of Albrecht Glass, as well as the success of other glass shops in the Lower Valley, is going the extra mile in providing "superior service" during an age of big box stores.
A third generation of Albrechts is starting in the glass business, too, as Steve's children Caleb, Vaughn and Abby help out at the Sunnyside business.
Steve Albrecht says it's the diversity of the glass business that maintains his and his family's interest in the line of work.
"You have to be able to do a little bit of everything," he says. "There's always something new."
Whether it's installing windows or screens for homes, businesses or autos - or even installing doors - Albrecht says no two days are ever alike at the family shop.
The one constant for Albrecht Glass since that April Fool's Day in 1972 has been, well, the Albrecht family.
"We're all in this together," Chris Albrecht smiles. "There's a sense of pride because you have to succeed on your own."