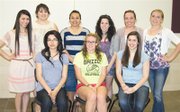 Six representatives and four alternates have been chosen from Sunnyside High School for the annual Evergreen Girls State Convention to be held on the CWU campus this June.
The 2012 SHS Girls State delegates are Jessica Bonilla, Sarah Berumen, Hannah Fernandez, Danielle Kranz, Lydia Robert and Geordan Skyles. Alternates are Anna Estrada, Meagen Meyers, Charley Rollinger and Tara Van Corbach.
The 66th session of the program will be June 10-16, 2012 at CWU, where the delegates will focus on city, county and state government.
During the week they will have the opportunity to participate in the legislative, executive or judicial branches of government through being elected to various positions, learn how bills are written as well as the process each bill takes in becoming a law, plus many other interactive activities.
They will hear from speakers representing various occupations and have the opportunity to meet other ambitious young women representing high schools from around the state of Washington.
It is the hope of the American Legion Auxiliary, that this week will not only teach young women about the value of involvement in government and the responsibilities of citizenship but will also open many future doors for those who attend.
The delegates will also have the chance to earn four college credits through Adams State College.
The delegates are assigned living groups or cities named after women of achievement, including Gregoire for Gov. Christine Gregoire, who was a Girls State delegate following her junior year in high school.