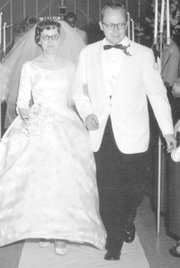 GRANDVIEW - Dale and Marilyn Burgeson first cited their vows, promising to stick together through thick and thin, nearly 50 years ago.
The two were married in Bellevue on April 27, 1962, during the first weekend of the Seattle World's Fair.
Since then, the happy couple has settled in Grandview, raising two daughters and enjoying the grandparent life to three boys.
Their family includes daughter Cynthia Lydum, her husband Chip and two boys, Nick, 9, and Charles, 5. In addition, their family also involves daughter Cheryl Cain, husband Todd and a six-year-old boy, Spencer.
Mr. Burgeson worked with the Salvation Army as a planned giving director and Mrs. Burgeson worked with Bleyhl Farm Service as an accountant. Both are now retired.
The couple plans to take their family to Hawaii this June in celebration of the golden anniversary.