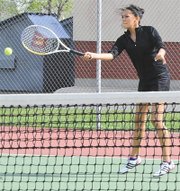 The windy conditions didn't help on the tennis courts yesterday.
Throughout their match against West Valley, the Sunnyside netters battled gusts and some dust as they tried to come up with a win.
It was Amanda Villarreal of the Lady Grizzlies that prevailed in No. 3 singles. She defeated Dannnielle Tanasse of the Rams 6-1 in the opening set. The two switched sides on the court and Tanasse defeated Villarreal. It was the Lady Grizzly that came out on the winning side, handing the Lady Ram a 6-1 loss in the final set.
"Amanda was tired, but pulled it out nicely," said Sunnyside Coach David Downing.
That would be the only victory for Sunnyside throughout the remainder of the match, however.
Sonia Romero suffered a 6-0, 6-1 defeat to Carly Riehl of West Valley in No. 1 singles action; No. 2 player Kassie Ortega also fell 6-0, 6-1 to Carley Schmidt of the Rams; and West Valley's Kayelyn Aggett defeated Yarely Gomez of Sunnyside 6-1, 6-0 in No. 4 singles play.
The Sunnyside doubles teams faced much the same fate as their singles teammates.
Sunnyside No. 1 duo Lydia Robert and Adilene Torres were handed a 6-1, 6-0 defeat by West Valley teammates Caroline Goyette and Makenzie Vinloch.
In No. 2 doubles action, Rams Julia Nathe and Rozlyn Pratt handed Karina Gonzalez and Ashley Foster of the Lady Grizzlies a 6-0, 6-3 loss.
Sunnyside's Jazmine Lopez and Roxy Plancarte, in No. 3 doubles play, fell by identical 6-0 scores to West Valley's Lauren Brandt and Katrina Salset.
Sunnyside (0-12) next Tuesday, May 1, will host Hanford.