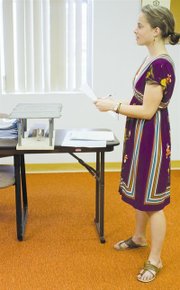 MABTON - Mabton's new community park may be ready for official use as early as this coming June.
At this past Tuesday night's Mabton City Council meeting, Laura Armstrong of Catholic Charities Housing Services addressed the council to iron out details and progress of the creation of the new Mabton community park.
The next steps in the construction of the park are to finish tetherball courts, put a net up at the volleyball courts and create a picnic shelter.
In addition, the park committee is looking ahead to a dedication and celebration of the park and housing community. The dedication is hoped to take place in June, according to Armstrong.
Leading up to the dedication date, City Clerk Ret Stewart said the committee should be looking at an official name for the park.
Mabton City Council members believe naming a park should honor a person essential to Mabton's history.
To further include the area's children who are helping with the project, Councilwoman Vera Zavala suggested the council identify individuals with historical importance to Mabton, and provide the youth with choices.
"Then they know about the history, and also get to help name the park," she added.
Council members Zavala and Mario Martinez agreed to come up with options for the area's youth to choose from. Council members hope to have an official name for the park by the council meeting scheduled for May 29.