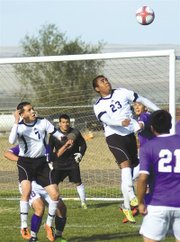 The Sunnyside Grizzly soccer team lost its second consecutive match in a shootout, falling to visiting Pasco yesterday.
Tuesday's match was scoreless after regulation and two overtime periods.
In the shootout that followed, the Bulldogs prevailed 4-2 on kicks by Isaac Sappington, Jose Rodriguez, Omar Martinez and Luis Castillo.
Scoring in the shootout for Sunnyside were Ricardo Leal and Javier Contreras. Two other shootout attempts by the Grizzlies missed the mark, clanging off the crossbar and sailing over the goal.
The match was a battle between third place Pasco and fourth place Sunnyside fighting for seeding in the postseason.
"It was a tough, hard match," said Grizzly Coach David Guevara. "We had plenty of opportunities and just did not seal the deal."
Both teams had scoring chances, with the Bulldogs and Grizzlies each firing 10 shot attempts. Sunnyside keeper Cristian Vargas recorded four saves.
The two squads were also hampered by wind, but Guevara also gave credit to both defenses for putting clamps on the net.
"Defensively this league is extremely tough, all of our losses have been by one goal," Guevara said. "Defensively we're tough but so is everyone else in the league."
Sunnyside (6-6, 7-6-1) travels to West Valley this coming Saturday.
As with yesterday's match, there will be a playoff intensity on Saturday.
"They're (the Rams) are fighting for sixth place and if we don't pull out a win in the next two games we could easily drop down to sixth," Guevara said.