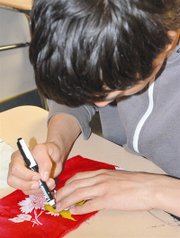 Harrison Middle School teacher Jessica Sarmiento is a firm believer in making history relevant to her students.
Having just finished learning about the role of quilts during the Civil War, the students are tying that piece of history to their current school year by creating their own quilt squares.
"We are using fabric to make any design we feel represents us," said Sunnyside eighth grader Cynthia Candido.
She designed a shooting star, making a statement to everyone. "I think it represents what everyone is capable of doing," she said.
Candido believes anyone can be successful in life as long as they put forth the effort and do their best.
Carolina Rangel said the project is meaningful to her because the class is telling its own story, sharing some symbolism of their lives with others.
She said, "Slaves used quilts, hanging a banner to indicate where food, shelter and clothing could be found along the underground railroad."
That, said Rangel, is a piece of history. Her class, she said, is making its own history.
Abigail Magana said making the quilt is not risky like it was for the slaves and members of the underground railroad, but it is symbolic.
"The designs send a message," she said.
Sarmiento said the project provides the students with a new perspective.
She said it was in college that she learned about the use of quilts in the underground railroad.
"Not all of these students will have the opportunity to go to college, but they can gain added perspective through experiences like this," said Sarmiento.
She said those with a native American background can understand the significance because their culture teaches history in much the same manner.
Marco Rangel is commemorating his eighth grade experience with a design inspired by NBA player Labron James.
"Our basketball team was the only one to win any games this year," he said.
Rangel said the winning season was a highlight of his year and it has inspired him to play the sport when he attends Sunnyside High School next year.
The pieces of the quilt will all be as unique as the individuals designing them. The students said they are enjoying the project because it helps them to remember the lessons of those who endured through slavery and the Civil War.