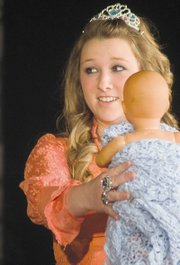 The Worst High School Play in the World couldn't be farther from the truth.
For a lighthearted evening full of amusing entertainment the whole family can enjoy, entertainment mongers should set their sights towards Sunnyside Christian Elementary School this weekend.
The Sunnyside High School drama students are set to perform "The Worst High School Play in the World."
This production is a play about a play.
The narrators, Timothy Foster and Nefertiti Gutierrez, are a sight for sore eyes as they continue to grow into obesity with each curtain call. The narrators are constantly eating, and each time the lights dim, the two seem to double in size as they re-tell the story of Ivanha.
Ivanha, played by Josh Stein, is a young boy and heir to the throne, who was estranged from his family at an early age. He was left in a dark forest to be raised by squirrels. Every audience loves a good story about a boy being raised by wild animals, but Stein takes this to a new level.
With an equally outstanding performance, Ivanha's sister, Corsicana, played by Melissa Dalrymple, captures her character, a princess, from the moment she's asked to change a diaper. The look on her face is disgust, and the audience can almost smell her repulsion.
The frazzled director, Lisa Leyendekker, plays her role well, looking as stressed out as her character description calls for. In this play about a play, the director is constantly yelling at cast members and reminding them of their lines and placement.
Stealing the spotlight, however, is Vicera, the darkly-evil prince played by Ethan Householder. His evil laugh is believable, and the comedy that comes from his facial expressions and body language are sure to bring a smile to the audience's face.
Perhaps lacking in sound equipment, some cast members are hard to hear at times. But if a hard-of-hearing guest sits close to the front of the elementary school gymnasium, they are sure to catch a few good laughs.
The comical and talented cast members of this comedy set in 1243 A.D. include Betsy Knotts, Emily Werkhoven, Darren Broersma, Rita Dalrymple, Tad Tyhuis, Alyssa Haak, Mirella Jimenez, Mary Filicetti, Nate Scheenstra, Kate Newhouse, Drew Scheenstra, John Newhouse, Ian Heffron and Jordan Floyd.
Performances for this production are scheduled for this Thursday, Friday and Saturday, April 26-28, at 7 p.m. Admission for the show, at Sunnyside Christian Elementary School, is $3 for students and senior citizens, and $5 for adults.