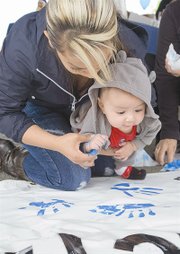 The city of Sunnyside has seen a 20 percent drop in violent crimes committed in the first quarter of 2012.
That's according to Courtney Percival, Sunnyside Police Department Crime Analyst in comparison to crime rates since 2010.
She says this statistic is largely due to more officers on the force along with the community stepping up saying no to crime and to area service organizations and victim advocate groups working to help better the community.
Violent crime victim advocates, Sunnyside residents and police officers gathered yesterday (Thursday) at Sunnyside's Centennial Square to honor those who've fallen victim to violent crimes during National Crime Victims Week.
Nearly 20 people showed at the event to hear from Percival and Sunnyside gang unit police officer Johnnie Gusby.
Gubsby said since the gang unit's creation, those serving on the unit are allowed to solely focus on hunting out violent crime offenders, including gang activity.
With Percival's insight, she says the Sunnyside Police Department hopes to continue the trend of lowering the number of violent crimes committed in the area. But they can't do it alone.
"Most crime goes unreported," she said. "We can only deal with the crimes we know about."
Sunnyside police, Percival added, hope to increase community trust along with having more local residents report crimes when they occur. She says often times area residents are afraid of retaliation in exchange for reporting crimes.
"I would like for us as a community to break the culture of silence," she added.
Percival credited area organizations and victim advocacy agencies for their help in decreasing crime rates, but encouraged residents to take a stand and report what they know.
"We want to eliminate the gang problem here," she said.
In addition, Percival says police officers are working to revisit past crimes to ensure the perpetrators are in custody.
After the speeches given at yesterday's rally, attendees were invited to place a handprint on a banner as a sign of solidarity against violent crime in Sunnyside.