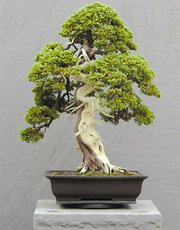 YAKIMA - The Yakima Valley Iris and Bonsai Society's annual exhibits are scheduled to be featured at the Yakima Area Arboretum on Saturday, May 19, and Sunday, May 20.
All are invited to attend Saturday's show and competition hosted by the Yakima Valley Iris Society from noon to 3 p.m. Attendees can meet the experts, see demonstrations, view specialty irises, learn about becoming a member of the Iris Society and more.
While visiting the displays, society members also want to remind visitors not to forget to take a walk through the Arboretum's stunning iris display bed. The iris bed contains many award winning and newer variety plants.
In addition, area residents can enter their own irises and iris designs for the judging competition.
Prizes will be awarded to the top entries in adult and youth categories for design and flower divisions. Entries can be brought to the Arboretum from 7:30 to 9 a.m. on the day of the show.
For more information on the iris competition, contact Dorothy at (509) 697-4143 or for general information about the event, contact Marjory at (509) 697-5049.
Then on Sunday, May 20, area residents are invited to visit the world of miniature trees. The Yakima Valley Bonsai Society will again host the annual bonsai exhibit from 10 a.m. to 3 p.m. at the Arboretum.
The term bonsai refers to the training and artistic vision applied to a tree; ultimately giving the illusion of an aged miniature tree in nature.
The exhibit will feature artistically designed alpine firs, larches, yews and maple trees. Attendees can expect to see trees in training, live demonstrations, stone exhibits, trees for sale and a tree raffle.
In addition, information will be available to attendees of the exhibit on how to become a member of the Yakima Valley Bonsai Society.