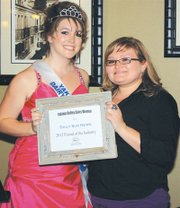 A spirit of unity was alive and well at yesterday's Yakima Valley Dairy Ambassador Banquet as dairy industry professionals joined in to say farewell to this year's Dairy Ambassador.
The crowd was in a state of nostalgia, saying their goodbyes to the sitting Yakima Valley Dairy Ambassador, Sabrina Mensonides, who gave her farewell speech. She plans to head off to the Washington State Dairy Ambassador contest this June.
This year, however, no one will be taking her place. There wasn't a Dairy Ambassador contest, which was due to a lack of participation.
But the Yakima Valley Dairy Women say that won't change how active they plan to be in the community.
"We're still going to be out in the community just as much," said LaVonne Boogerd.
Nearly 70 attendees joined together last night at Bon Vino's Bistro and Bakery, participating in a raffle and a 'heads or tails' game. The two contests, along with additional donations, brought in more than $280 that will be donated to a local food bank.
Mensonides demonstrated a presentation she performed at local schools to banquet attendees on the topic of calcium. The presentation ended with the entire group chanting, "Drink a mug of milk a meal."
Mensonides says this past year serving as the Yakima Valley Dairy Ambassador has gone by too fast. She's attended numerous events and parades and has visited schools in support and promotion of the dairy industry.
"Hooray for cows," she said as she ended her farewell remarks.
Just before the evening concluded, Mensonides announced this year's Friends of the Industry award.
"This year the Friends of the Industry award doesn't go to one individual, but a group, for their support in the dairy industry: the Daily Sun News," she said.
The evening concluded with hugs, photos and camaraderie as the group said thank-you's to Mensonides for her service this past year.