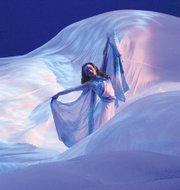 GOLDENDALE - The Maryhill Museum of Art will be holding a dedication weekend for the new Mary and Bruce Stevenson Wing starting at 10 a.m. on Saturday, May 12, and culminating with the formal dedication ceremony on Sunday, May 13, at 2 p.m.
The museum will be open with free admission for all visitors from 10 a.m. to 5 p.m. on both days. A variety of events will be available for attendees.
On Saturday, the Sam Hill Rendezvous car show will feature a rare 1923 Locomobile and other antique vehicles. Antique planes from the Western Antique Aeroplane and Automobile Museum will perform a fly-by at noon.
At 1 p.m. the vintage cars will cruise up and down the historic Maryhill Loops Road and at 2 p.m. the road will be opened to the public for modern cars.
On Sunday the Columbia Gorge Dance Academy will perform Loïe Fuller's La Mer in honor of Mary Hoyt Stevenson.