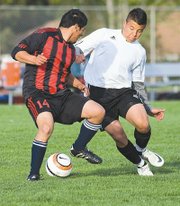 GRANDVIEW - It was senior night for the Grandview Greyhound soccer team and the team celebrated the accomplishments of 10 seniors, four of whom are varsity players.
The Greyhounds hosted East Valley yesterday for a non-league match and settled for a 1-1 tie to bring an end to the regular season..
"We left it at a tie because we are already in the playoffs and East Valley is attempting to get a playoff berth. We didn't want to risk any unnecessary injuries," said Grandview Coach Anne Holden.
She said the two teams put it all out on the field during regulation, however.
Neither the Greyhounds nor the Red Devils were able to score in the opening half.
In the closing half, East Valley was the first to get the ball past the crossbars. Scoring unassisted was Oscar Avilla.
Grandview answered 18 minutes later thanks to a lot of teamwork. Holden said there were as many as five passes that precluded the goal.
Senior Ramiro Soto gained possession of the ball, kicked it to junior Martin Barragan and the younger Greyhound scored.
"It was a brilliant goal," said Holden. "The teamwork was sublime."
Grandview kept the Red Devils on defense most of the game, creating several scoring opportunities. The Greyhounds tallied 12 shots on goal, whereas East Valley had five direct opportunities to get the ball past the crossbars.
Grandview keeper Elmer Campuzano recorded four saves.
East Valley's Frankie Nuvarro and Caleb Schrank combined for 11 saves.
"It was truly an enjoyable senior evening," said Holden, stating the parents and family of the seniors showed their support of the Greyhounds.
She said it was inspiring to see the faces of so many, "...seeing in their eyes the realization that the seniors will be moving on to future aspirations."
Grandview (6-3, 7-8-1) will host its first District playoff match next Thursday, May 3, at 5 p.m. at Rich Leenhouts Stadium. The team's opponent has yet to be determined.