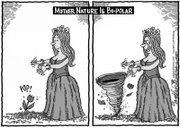 I'm a weather wimp.
That's a result of growing up in the mild climate of Seattle, where the seasons were virtually indistinguishable from each other and the temperatures stayed in a relatively small range.
On our first house-hunting trip here in Sunnyside, I thought I was going to die. It was 101 degrees, and while I'd experienced such heat before, the idea of living in it made me wonder if the move out here was really a good idea.
But in my few years here I adjusted. I thought I'd gotten used to it. After all, the weather is fairly predictable and consistent.
Then came this past Monday.
I think I didn't take the weather report seriously. When the record-breaking 90 degree heat hit me and made me pine for Seattle rain, I was suddenly a complete weather wimp again. I felt like I was walking into an oven when I went outside. The lightning storm and mugginess that evening just added to my feeling.
Tuesday was scarcely any better. I dragged throughout the day and vainly hoped my body would adjust.
Ah, but the rain arrived later in the week, sparing me further discomfort and giving me a respite from the oven.
Which was nice of Mother Nature, but I'm scared of summer now. If April can hit 90 degrees on a whim, what are we in for over the actual hot months of the year?
If you see me dragging in the hot sun, feel free to giggle at my weakness. And I hope you'll all forgive me when I spend those hot days praying for a little Seattle-type rain.