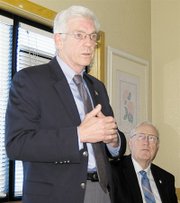 The Sunnyside Republican Club welcomed Sen. Jim Honeyford and Rep. Bruce Chandler to speak at last Friday morning's meeting at the Sunny Spot restaurant.
Honeyford started with an overview of the process the legislature went through to reach an agreement on the budget.
"It's good to be home with real people again," he said as he started his talk.
Honeyford said he was disappointed in the special sessions, particularly how they disrupted his holidays.
The Republican viewpoint for the budget this year was "reform before revenue." Honeyford said he believed reforms would mean the legislature would have no need for new taxes.
The four reform areas the Senate Republicans focused on were pension reform for state employees, a six-year balanced budget, lowering the constitutional debt limit and changing K-12 health insurance. He said Republicans managed to accomplish most of their goals, with some compromise, thanks to three conservative Democratic senators siding with the Republicans.
Honeyford also pointed out that this is the first state budget in six to eight years that stays within the state's means and does not assume an increase in revenue.
Chandler spoke about the length of the session.
"It was a painfully unusual session," he said. "Legislation is not like wine, it doesn't get better with age. The choices start getting worse as time passes, not better."
Chandler pointed out the session lasted six months, with five special sessions in the last two years.
However, some of the results were very good. Chandler mentioned how the legislature kept levy equalization funding for schools intact and protected critical access hospitals.
He expressed some distress at the low level of reserves the budget left.
"The $300 million in reserve is only 1 percent of the budget," he said. "That would fund state services for one week. It's not a good amount for a $30 billion budget."
Chandler said the legislature still has big challenges ahead.
"It was a very challenging session," he said. "We're all relieved that it stopped. Next, we're going to face a rowdy election year."
After the presentations, the legislators took questions from the group. One question was about the redistricting, about which the legislators expressed frustration and disappointment of new legislative boundaries that were drawn up.