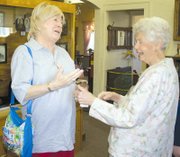 "It's research, not a reunion," Boyce Montgomery smiled, and with that the Oklahoma resident along with more than 30 other Snipes family members from around the country gathered at the Sunnyside Museum last Saturday.
It was a pilgrimage of sorts for those related to Sunnyside pioneer and cattleman Ben Snipes, who settled in this area more than 150 years ago.
Thanks to Sunnyside hospitality, what once was an annual business meeting for the national Snipes family organization has turned into a yearly field trip to Ben Snipes-related historical places around the country.
"It used to be just a board meeting until we came to Sunnyside five years ago. We had such a good time we decided to enjoy each other's company instead of just having a meeting," said Kenneth Crabtree, who owns a parcel of land in North Carolina that has been in the Snipes family since the 18th century. "The people here are so friendly. They make us feel like royalty."
Indeed, local volunteers not only opened the Sunnyside Museum's doors, but glass cases so Snipes family members could get a better look at Snipes-related memorabilia. An original manuscript of Roscoe Sheller's book about Ben Snipes was displayed and drew considerable interest.
Volunteers also provided snacks, refreshments, music and a hearty welcome for the Snipes family caravan.
Ben Snipes' cabin across the street from the museum and the nearby Ren Ferrell statue was a featured attraction.
"I don't know how anyone could have lived in this," Vicki Snipes of St. Petersburg, Fla. said as she peered inside the primitive cabin. "I don't know if I could have been a pioneer," she laughed.
Saturday's visit here was part of a weekend full of travel and remembrances about Ben Snipes for the family.
Their trek began at The Dalles, Ore., another Snipes historical location, and ended Sunday in Goldendale where he is buried.
The Ben Snipes legacy certainly features its share of historical geography.
But it goes deeper. Those who visited from around the country came here to essentially honor a distant relative as Snipes' only child died while at sea.
There's a kinship between them and it's shared here in Sunnyside, where he is an important pioneer.
Some, like Crabtree, still own historical Snipes family property.
Others, like Montgomery, continue Ben Snipes' legacy as a cattleman.
Like all of the extended Snipes family here on Saturday, Montgomery and wife Timmy were tickled to be in Sunnyside.
"It's wonderful to be here. This is a group that looks forward to getting together," she said.
Reflecting the gathering's good-natured tone, Boyce Montgomery even quipped about the family's cattle-ranching. "Eat more beef," he laughed. "It's good for business."