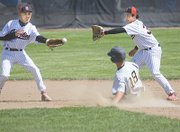 It was all Southridge from the get-go as the visiting Suns swept the Sunnyside Grizzly baseball team this past Friday in a pair of five-inning games by scores of 11-0 and 18-2.
In the opener, Southridge plated four runs in the third inning to pull away, as Sunnyside again struggled with fielding and pitching control.
"We got them to pop up a lot, but we had some walks and errors," Sunnyside Coach Terry Shines said.
The Grizzlies collected three hits in game one off the bats of Mason Kupp, Julian Rivera and Bobby Sarmiento.
In the nightcap, the Suns jumped on Sunnyside for five runs in the third inning and nine more in the fourth frame.
The Grizzly bright spot at the plate came in the fourth inning of game two, when Rivera slammed a two-run homer. Sam Romero, Tim Martinez, Fabian Guerra and Miguel Mendez also had base hits for Sunnyside in the second game.
Joel Ortega struck out four while pitching for Sunnyside in game one, while Kevin Lee and Aaric Bright shared duty on the mound in game two for the Grizzlies.
Winless Sunnyside closes out its season tomorrow, Tuesday, with a doubleheader at home against West Valley.
"We want to get a win, but I'm going to give our younger guys some starts," Shines said. "They'll be playing this summer."