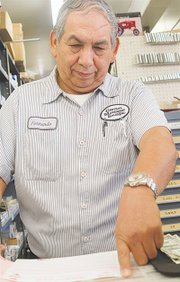 After working for Sunnyside's Central Machinery for nearly 40 years, Fernando Gatica put in his final day of work this week.
Gatica came to work at the age of 28 for the Sunnyside company after serving in Vietnam and attending auto mechanics school, and he's never left.
"I've been here ever since," he said.
Gatica has seen six owners of the company come through in the past 39 years, beginning with International Harvesters in the 1970s. He's also seen several technological upgrades to the store's operating system and to the outside world.
"I've definitely learned a lot, and there's still more to learn," he said.
But this past Tuesday, Gatica's learning session at Central Machinery ended. He will pack his virtual bags and head into a life of retirement.
During his time off he plans to visit family and maybe even taken up gardening. But while he's hitting the road and tilling the ground, co-workers and customers alike will be missed.
He and his boss, Mike Heitstuman, came to work for the company at the same time and thus, have shared many memories together. He says the employees at the local company have become like family.
"He's been my right hand man for so many years, I'm sure going to miss him," Heitstuman said.
Gatica says his greatest memories have been working with area residents who have since passed away, along with working alongside quality co-workers.
For almost four decades Gatica has worked behind the parts counter at the company. He's seen the company move from cards and paperwork, to having to input information into computers.
"Farm equipment has evolved tremendously, too," Heitstuman, Gatcia's boss, added.
He added many customers who come in to the store are excited to still see Gatica behind the counter after all the years.
"Lots of customers are going to miss Fernando (Gatica)," said Glen Shepherd, the company's service manager.
Gatica says he'll, too, miss the customers and the work, but as for the days to come, he says, "tomorrow, I'm going to sleep."