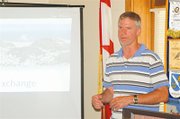 Young children trying out for professional soccer teams and a transparent society were just some of the takeaways Ross Courtney experienced while in Brazil for a month earlier this spring.
Courtney provided a presentation of his trip to the Sunnyside Noon Rotary Club this past Monday. Courtney's trip to Brazil was funded through International Rotary's group study exchange. Eligibility requirements included being between 25 and 40 years old and not having membership in Rotary.
The idea is essentially like that of a student exchange, only the time period is condensed down to a month and allows professionals to exchange ideas and cultures with those in their line of work in another country.
A reporter for the Yakima Herald-Republic, Courtney said he visited with a police reporter with a newspaper in Brazil. He said the reporter starts work at 6 a.m. every day and visits one-on-one with a police sergeant each morning.
He noted there appears to be much less of a separation in terms of potential conflicts of interest in the Brazilian media. For example, he said some reporters will also work on behalf of political campaigns. He said the exception is that government reporters will not cross that line to work for a candidate.
Courtney said he was impressed with how open the people in Brazil were, with no one declining to be photographed. That openness included a drug recovery center where participants were willing to tell their stories.
With a developing economy, Courtney said he noticed labor in Brazil is cheap. He said streets are swept by hand.
"They don't spend $200,000 on a street sweeper that may or may not work," he added in a dig at Sunnyside's problems with a new street sweeper that didn't meet the city's needs.
Courtney also noted that soccer - football as it's called there - is such a big deal in Brazil that children don't try out for youth clubs but for professional teams.
He says the professional teams have programs - which include housing as well as training - for young soccer players. "It would be like the Seahawks having a Grid Kid program," Courtney said.
His only regret about the month in Brazil is that Rotary kept the exchange group too busy, visiting 12 different cities in a month's time. "They took us to do too many things," he said.
Even so, Courtney says it was the experience of a lifetime.
"It was really tiring, but I would do it again in a heartbeat."