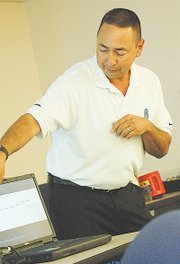 The city of Sunnyside has seen a drop in crime rates in the first half of this year, between January and June, compared to last year's numbers.
That's largely thanks to upstanding citizens like, but not limited to, Daybreak Rotarians and their Noon Club counterparts, Sunnyside Police Detective Sergeant John Chumley said at this past Wednesday morning's Rotary Club meeting.
"We have a wonderful community," he said.
Chumley says officers have arrested more offenders for illegal drugs and DUIs than in the past eight years. Drug offenses have increased 24 percent from last year's first-half figures, and there has been a 53 percent increase in DUI arrests as well.
Chumley says because there are more officers on the streets and they are making more contact with citizens, they are catching those who are likely to commit other crimes, before they get to that point.
"It's likely that people breaking into your car are doing so to buy dope," he said.
Chumley says the dramatic decreases from last year's numbers in other crimes such as residential burglaries (48.6 percent), part-1 crimes (14.5 percent), part-1 violent crimes (25 percent) and property crimes (10.5 percent) are largely due to the increase of officers on staff contacting those who are doing and dealing drugs and driving under the influence.
In addition, this past June Chumley says officers fielded just one residential burglary report.
"That's almost unheard of," he said.
He says the decrease in crimes is in thanks to more officers on the streets, catching those before they act, along with citizens doing their part in the city.