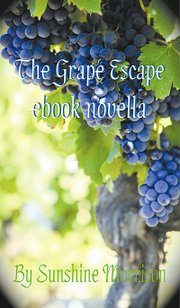 It's always fun to see your name in print.
And with the Grape Escape, by Prosser native Sunshine Morrison, you can do just that. For a short moment, you can live in the glamorous world of this romance novella.
First, you fill out an online questionnaire, answering a few short questions about you and your significant other. Then, choose whether you'd like your personal novel to reflect a story that is 'wild' or 'mild'.
The 'wild' version of the short eBook made me, to say the least, a bit uncomfortable and embarrassed. There is information in that version that I would never disclose to anyone, or is completely out of character for us. So needless to say, it made me feel a bit exposed and vulnerable. The 'mild' version was more entertaining, because it didn't bring me red-faced with embarrassment. The story-line was the same but the mild version left the sexy details completely to the imagination.
The story begins with me winning a romantic getaway where Kyle (my boyfriend) and I go on the trip of our lives. In both versions of the story we are a bit, well, frisky. Reading the story together, just between the two of us, was quite entertaining. But if anyone else got a hold of this story, I would be appalled.
I really have never heard of a personalized novel before, so it was very exciting to see our names, nicknames, places of work and even our cologne and perfume scents incorporated into the story.
The book is also available to order in a print version, and even with a photo on the front cover.
While I prefer the mild version over the wild, the personalized novel is a novel idea. It would be a perfect anniversary gift for your special someone, and even fun as gag gift for a single friend.
The possibilities are endless.
The book is sent to your email in a PDF format. Some eReaders, such as a Kindle or tablet, may have trouble establishing a legible format, but any computer is likely to read it just fine.
The best part about the book is it was written by someone who we, here in Sunnyside, can call a neighbor. Sunshine Morrison lived in Prosser much of her childhood and teenage life.
"Go Prosser Mustangs," she said.
This author says she normally likes to write stories with a dash of comedy. But when a publisher was holding a writing contest for romance stories, she decided it would be the perfect way to get her feet wet in that particular genre.
Growing up in wine country, and now living in a similar wine-glazed setting, her knowledge of the wine industry and culture it creates shines through the story.
Last December, Morrison was notified she was one of 10 who were chosen to publish their personalized romance novellas electronically and thus began her journey into romance writing.
The book is well written with a dash of comedy, and if you like to live in a fantasy world of romance and one-liners that are meant to be romantic, it's quite entertaining.