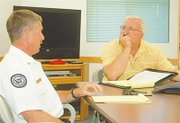 The discovery that two Sunnyside schools pay the same monthly ambulance utility rate as homeowners has prompted the Sunnyside Fire Department to pursue an audit of utility customers.
Fire Chief Aaron Markham discussed the issue last night, Thursday, during the city's Public Safety Committee meeting.
Sun Valley Elementary School and Sierra Vista Middle School both pay the residential rate of $4.16 per month, Markham said.
According to the city's current ambulance utility rate schedule, the two schools should in actuality be paying a rate anywhere from $75 to $100 per month each.
The rate is based on the number of people in a household. For business and public facilities the rate is based on the number of employees.
Markham also discussed the possibility of Sunnyside re-evaluating the rate schedule because currently the top tier levels out at 101 employees. Sites with more than that number - whether it's 101 or 301 employees - all pay the same rate.
The idea, then, would be to create a higher rate level for those businesses above the 101-employee threshold.
Ambulance utility rates for all businesses and homeowners in Sunnyside are under review. A recent study showed utility rates would have to more than double to cover ambulance costs that aren't paid by insurance, Medicaid and private pay users.
Markham knows that would be a tough sell.
"It's essentially doubling utility rates overnight and that's something the citizens may not want to see," he said.