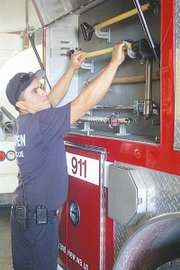 GRANDVIEW - Spreading the word of a good place to work is all Grandview volunteer firemen need, apparently, to keep staffing levels at an adequate level.
Grandview Fire Department Captain George Saenz says in the way of recruiting new firefighters, it's mainly a word of mouth operation.
With just two full time paid staff, the department heavily relies on its volunteers. And over the years, the department has seen an influx of new recruits who have shown interest in the process of becoming a Grandview firefighter.
"Our current volunteers like it here," Saenz said. "So they end up making the recommendations themselves."
Saenz says usually inquiries that come in about the department are originated from a current volunteer who was boasting about the good working environment.
To get started, one interested in becoming a volunteer firefighter must have a driver's license, a clean driving record and a GED or high school diploma. They must also be at least 18 years old and physically able to do the job.
Saenz says in addition to the overall satisfaction of the current volunteers, which totaled 31 this past June, is the flexible training program recruits undergo. In years past he says the department held training courses on certain days and times.
"We had to turn a lot of folks away because of their outside commitments," he said.
But the local department instituted a new way of doing things. The training course is now a self-study format, to allow the recruit to study on his or her own time. The new recruit is also given a mentor, to help them through the learning process.
Adorning a wall just before entering the training room at the Grandview Fire Department is a chart for new recruits to manage where they are in their training status, like which duties or exams they must next complete.
Currently, the department is mentoring six new recruits.
Just six years ago the department housed 21 volunteer firefighters. Now, that number is at 31, not including the two full-time paid firemen.
The goal of the Grandview Fire Department, as described to city council members at a retreat just last month, is to add to its department an EMS captain, six firefighter lieutenants, an EMS lieutenant and more volunteer firemen and EMS providers. Notes to council members also cited hopes for a future 'sleeper' program for firemen working overnight.
Saenz says with the way recruitment is going now, the department is seeing healthy volunteer numbers, and, they are still on the rise.