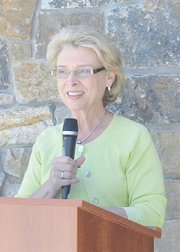 PROSSER - While Gov. Christine Gregoire toured various sites in the Yakima Valley, visiting with farmers and attending the groundbreaking ceremony of a new pump back station last Thursday and Friday, she was able to witness firsthand how the agricultural region is adjusting to hardship but still thriving.
Gregoire stopped at the Walter Clore Wine & Culinary Center in Prosser for a luncheon last Friday. The luncheon was a celebration of all that has been accomplished at the center thus far.
Several dignitaries instrumental in the success of fundraising efforts and seeing the Clore Center become a reality were present for the luncheon, during which Prosser Mayor Paul Warden told those gathered that the governor has been a strong supporter of the project.
"This venue is not just Prosser's or the Yakima Valley's...it is an asset to Washington state," said Warden.
Although the facility's construction is not yet complete, Deb Hintz of the Washington Grape Growers Commission and a member of the center's board, said the vision for the center is that it will promote agriculture as well as Washington wines.
The center is located in what is pushed as the heart of wine country. Benton County, said Hintz, produces 40 percent of the state's wines and Walter Clore is credited for being "the father of Washington wine" because of his faith in the region. He was a researcher at Washington State University's research and extension center just outside Prosser.
Mike Hogue told those in attendance last Friday Clore would end his presentations about Concord grapes, telling any and all about the potential for growing wine grapes.
"Naturally, I grew Concords...it took about 15 years before I began growing wine grapes," Hogue laughed.
Because the wine industry and agriculture is an important contributor to the state's economy, Hintz told those at the luncheon the visionaries responsible for planning the Walter Clore Wine & Culinary Center believe it is important to have an educational center available for agri-tourism.
"To keep the upward growth and momentum going we need to put in place additional vines and tourism infrastructure," Hintz said, stating Prosser has seen its economy grow due to a combination of agri-tourism and the wine industry.
Dr. Bob Stevens is a member of the Clore board. He told the gathering he appreciates all that has been accomplished to see the Walter Clore Wine & Culinary Center project bear fruit.
He said the one building on site has already drawn a large interest from community organizations, who use it for hosting events and special occasions.
"The location of the Clore center is a logical place," said Stevens.
"His (Walter Clore) research kick-started the local wine industry."
The facility, once fully completed, said Stevens will feature a tasting room serving different wines from around the state, but it will also have a conference room, a retail space, an exhibit area, a demonstration kitchen, a kitchen for catered events, a large multi-purpose room that can be divided into classrooms and offices for staff at the center.
The plan is to advertise for construction bids next month and the board is hoping the construction can be completed by October 2014.
Gregoire spoke to those gathered, stating she is impressed with the site as it is and looks forward to its completion.
"There's much to celebrate," she said, stating Washington's agricultural industry is responsible for much of the state's progress.
She said approximately 160,000 citizens are employed because of agricultural jobs and producers in the state are both a concern for other nations and a blessing.
When touring Ireland Gregoire said the makers of Guiness ale expressed worry regarding microbreweries.
"They were expecting me to say how sad that was, but I told them, 'You should be'," said Gregoire. She said she asked if they used hops from Washington state, and they admitted they did.
As for the wine producers, she said Washington doesn't make the same volume of wine as California, but Washington wines win more awards.
"I have heard all over the world about the quality of Washington's produce," said Gregoire, telling the crowd she was overseas and was asked when Washington's cherries would be available.
Noticing some cherries at that particular gathering, she said she told them they had cherries already.
Those inquiring about the fruit said the cherries they had weren't from Washington and therefore, the cherries weren't as good.
Gregoire said that is a testament to the growers in the state and she is pleased tourists will soon have a place to visit that will help them better understand the state's agriculture and its contributions to the world.
"This is a fabulous center," she said of the facility already on site, stating she is looking forward to visiting when the 15,000 square foot project is complete.