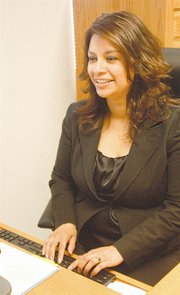 Sunnyside resident Leticia Garcia had been working her way up the corporate ladder, hoping to find a job she loved and felt made a difference in the world.
After a few years of working at the Zillah School District and Heritage University near Toppenish, she decided to earn a degree in psychology, which she obtained in 2007. She's just three courses shy of a Master's degree.
Garcia also had a few experiences working with different agencies and organizations that support victims of sexual and domestic violence crimes.
Recently, she went to work for a counseling agency, and three months later the federal funds were cut and she was out of a job.
That's what brought her to work at Lower Valley Crisis and Support Services in Sunnyside.
Garcia, recently named executive director of the Sunnyside agency after serving in that role on an interim basis for several months, says she's right at home.
Not only has she lived in Sunnyside for nearly five years, she really feels part of the community now.
In addition to getting to network and work with several Lower Valley support agencies, such as law enforcement, children protective services and several others, she says Lower Valley Crisis and Support Services is helping to fulfill a much needed service in the community...working to restore the lives of those who have been abused sexually, physically and mentally.
"This is the community where my children go to school," she said.
For Garcia, it's a rewarding feeling to be a part of building a healthy community that many desire.
She's been on the job just five months, and she says it's been some of the most rewarding months of her life.
"We offer free, confidential services, and we have a bilingual staff on hand," she said.
In addition, the agency also provides a 24-hour crisis line for counseling and resources. The Lower Valley Crisis and Support Services crisis hotline can be reached at 1-800-604-7462.