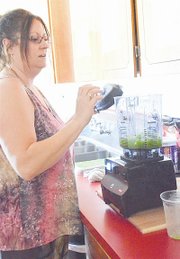 MABTON - For Mabton residents there haven't been any options for that morning cup of caffeine.
But that changed a couple of weeks ago when Dove Johnson decided to make a go of a business offer presented to her by Marshall Dawson.
She opened Dove's Coffee at 317-1/2 B Street and hopes the residents of Mabton will enjoy stopping by to grab a latte, smoothie, Big Train, Italian soda, chai tea, Red Bull or one of many other items on the menu.
Johnson is also planning a menu for food items she hopes to begin offering in the near future. The food, however, is not yet available.
"Marshall is going to install a fourth sink and a stove so I can sell food," said Johnson.
The coffee business is new to Johnson. She was a dental hygienist until she had back surgery.
She said after two surgeries she had to attend physical therapy and that's how she met Dawson.
The two became friends and when Johnson was ready to return to work she realized she couldn't return to a dentist's office.
She began looking at the possibility of entering the real estate business and sought Dawson's advice, knowing he was already working in the industry.
It was a few days after Johnson made that inquiry that Dawson proposed the idea of operating an espresso stand in a building he owned in Mabton.
"I decided to give it a try," said Johnson, stating the start-up revenue needed for supplies was expensive, but Dawson helped her by providing some of the equipment she needed.
"I just hope people notice I am open and business picks up so I can be profitable...everyone that has come by has expressed excitement that Mabton finally has a place to buy coffee," said Johnson, stating the reception from the community has been positive.
"I just hope I can be successful. I want to meet the needs of the community," she said.
Dove's Coffee is open Monday through Friday from 5:30 a.m. to 5:30 p.m., and Saturday and Sunday from 9 a.m. to 2 p.m.
"I may adjust my hours depending on when the customers come in," said Johnson.