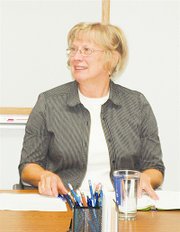 In a sign the Lower Valley real estate market might be on the upswing, the Port of Sunnyside is optimistic some of its properties will find buyers next year.
"The one word to best describe the general fund for 2013 is hopeful," said Carol Carter, the port's finance director.
Last night, Monday, she presented a preliminary budget for Port of Sunnyside commissioners to review
During the discussion, Carter said the port is fielding an increased number of inquiries regarding land sales and projects involving port property.
Accordingly, the preliminary budget for 2013 projects additional revenues and expenses of $1.15 million due to potential land sales.
If property deals don't go through in 2013, Carter said the general fund - which covers day-to-day operating revenue and expenses - will remain at the 2012 revenue level of $1.58 million.
"There are no guarantees," Carter said of 2013 land purchases.
Executive Director Amber Hansen added that general fund costs will also be the same as last year if the land purchases don't take place.
In potentially related news, commissioners met in executive session last night to discuss real estate issues.
Little change is anticipated in the port's industrial wastewater fund, which is pegged at a 3 percent increase in 2013, or a total of $4.27 million.
Carter also noted for commissioners that the wastewater fund has a healthy savings balance, with 12 months of reserves on hand to cover the costs of potential emergencies or catastrophic events. The port's policy is to have six months of reserves in the wastewater fund.
"I believe that this is a fair and equitable budget that shows the commitment of the staff of the Port of Sunnyside to operate a lean, efficient operation with our customers in mind," Carter said in her closing remarks.
Port of Sunnyside commissioners will hold a public hearing on Nov. 6 to consider and take comment on the 2013 budget.