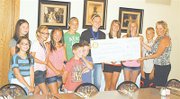 Fresh off a strong showing at the Mid-Valley Swim League championships, youngsters and parents in the Sunnyside Shark summer swim program filled the Sunnyside Noon Rotary's meeting room yesterday, Monday.
The Rotary-sponsored team finished second at the swimming championships, just a few points behind Selah. "We'll get them next year," Coach Patrick Elerding told Rotary club members.
Julie Schilperoort is treasurer for the Noon Rotary Club and a parent of swimmers on the Shark team. She presented a check for more than $5,000 to the team, which was raised from a raffle the Rotary club held to assist with expenses for the summer program.
Schilperoort also praised the assistance by many in the community to help the raffle become a success. "These tickets sell themselves," she said of provided raffle items that included a six-night beach hotel stay, a Kindle Fire and an iPad Nano. Six banks in the Sunnyside area also assisted with the ticket-selling effort, she added.
Kelly Harrington is president of the swim team association, and yesterday she said 2012 was one of the biggest years ever for the Sharks as 121 swimmers participated in the program this summer.
"We have a great group, everybody's committed," Harrington said.