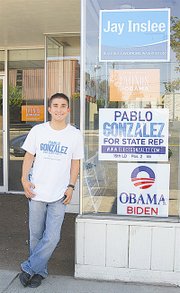 The office next to Fashion Corner in downtown Sunnyside is small, but Pablo Gonzalez and Donicio Marichalar hope that big things will come out of it.
The office is the Yakima County Democratic Central Committee's headquarters in the Lower Valley, serving Sunnyside, Grandview, Mabton, Toppenish and everywhere in between.
"The Lower Valley is constantly being ignored," said Gonzalez, a candidate for State Representative for the 15th District this year. "It's great to have an office in the Lower Valley."
The goal of the office is to increase voter turnout and educate voters in the area, and the effort included phone banking from the office the day before the primary election to remind voters to return their ballots.
Marichalar, the Chairman of the 15th Legislative District Democrats, pointed out that the primary was important for some races, including the race for State Supreme Court Position 8, which would be decided in the primary.
"The judicial races are non-partisan," he said. "But they are important."
The office is currently funded by the 15th Legislative District Democrats and Pablo Gonzalez's campaign, but they are hoping to have some funding assistance from both Jay Inslee's campaign and the Obama campaign soon.
The office will be open from 11 a.m. to 8 p.m. daily with a regular staff of volunteers. It will remain open at least until the general election.