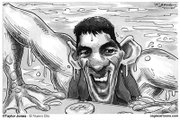 Every two years the world sets aside individual differences and convenes on the common ground of sport. Spectators around the world are inspired by young men and women representing their country and want nothing more than to hear their country's national anthem played while they stand on the medal podium.
This year the world sets its eyes on London, where more than 10,000 athletes representing 204 countries are competing in 302 events, ranging from basketball to canoeing. Later this month, thousands more athletes will compete in the Paralympic Games, also in London.
These games were a long time in the making. A century before the first official modern Olympic Games in 1896 - and a mere two decades after the Declaration of Independence was signed - France held a national Olympic festival in 1796. It was during this festival that the metric system was introduced to the world of sports for the first time.
Fittingly, the next major event in modern Olympic history happened in Greece. In 1856, a Greek-Romanian philanthropist wrote to King Otto of Greece offering to fund a permanent revival of the Olympic Games. As the United States was preparing to fight the Civil War in 1859, athletes from Greece and the Ottoman Empire competed in an Athens city square.
The Olympics continued to evolve with the start of an Olympic Class that eventually became the Wenlock Olympian Society. It is still in place today. The International Olympic Committee, which is still responsible for putting on the Olympic Games, was founded by a spectator of the Wenlock Society's games in 1890.
However, much has changed since those first games, including the addition of the Paralympic Games in 1948. But one thing remains the same - the pride and inspiration that the athletes instill in people throughout the world.
This year, I am proud that two Central Washingtonians are representing the United States in London - Tyler Farrar from Wenatchee represented the U.S. in the men's cycling road race and Hope Solo, who grew up in Richland, starts at goalkeeper for the U.S. women's soccer team.
In the United States, we unite under one flag and cheer for the Team USA athletes competing in London, and hope they achieve their dream of hearing the Star Spangled Banner played on the medal podium.
- U.S. Congressman Doc Hastings (R-Pasco) represents the Fourth Congressional District.
1 Bob Story 8/8/2012 3:28 PM