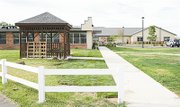 Eagle Rehabilitation at Sunnyside is one of 10 properties that has been sold to Vancouver-based Prestige Care, Inc.
The sale of all Kirkland-based Eagle Healthcare properties was confirmed this morning, Thursday, by Prestige's central office and Mary Arthur, director of the Sunnyside facility.
Prestige indicated it is holding off on issuing an official statement about the sale pending a 30-day "due diligence" period before the deal is finalized.
Assuming the sale goes through, the transition from Eagle to Prestige takes effect Oct. 1, Arthur said.
She says Prestige officials visited Eagle Rehabilitation on Monday of this week.
"I found them to be very patient-centered, very compassionate," Arthur said. "I am comfortable with this because our (Eagle Healthcare's) current president Jeff Marshall wouldn't be selling us to somebody that he didn't trust."
She praised Marshall's work over the last 12 years in building up Eagle properties, including an extensive renovation and addition at the Sunnyside site.
Arthur's confident that Prestige will continue that upward trend.
"I'm impressed with the attitude and sincerity of the Prestige people,' she says. "They asked good questions, listened carefully."
The pending sale also includes Grandview Health Care Center.
Arthur anticipates a good transition for both Sunnyside and Grandview facilities.
She says no jobs will be lost because of the sale and benefit packages for employees should be similar with Prestige.
Prestige owns and operates 45 assisted living, nursing and rehabilitation and independent living sites in eight states. Ten are in Washington, including locations in Ellensburg and Toppenish.
Arthur has 40 years experience in the health care field, including work with three corporations and at two sites that were sold.
"It's not that much different because there's still the need for quality care," she says of the transition. "It will be business as usual; same patients, same policies and procedures and same great care."