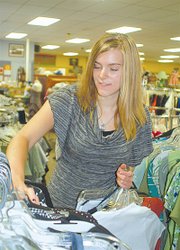 Self-confidence and a more outgoing demeanor are just two of the benefits Danika Wagenaar receives from her job at the Sunnyside Christian Thrift Shop.
A junior this fall at Sunnyside Christian High School, Wagenaar has been working part-time at the store since last September.
She said working as a cashier and wherever needed at the store has helped her overcome shyness. "I still have a hard time talking to people," she says. "But it helps me communicate better with other people."
While working with the public continues to be a learning experience for Wagenaar, she says she enjoys other aspects of her job.
Those tasks range from working in the back preparing donated items for sale - "I like it, it's nice and quiet," she smiles - to general janitorial duties.
Wagenaar also helps set items out for sale, including arranging clothing for display.
She says the work is teaching her problem solving skills. "Whenever different situations come up I have to figure them out," Wagenaar says.
Beyond the day-to-day tasks of working at the store, Wagenaar says the thrift shop provides long-term benefits that can't be quantified.
"It's a really positive place," she says. "Since it's a Christian environment you feel really welcome."
Wagenaar adds, "It's helped me with my personal walk in my Christian life and goal of being a Godly woman."
Further, the thrift store is not only a help to her, but to other students getting ready to start the new school year in a matter of days in the Sunnyside Christian School program.
"I like the fact that it benefits our school," Wagenaar smiles. "It's a great place."