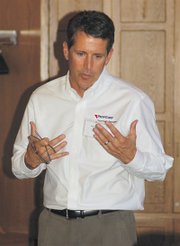 It's a double-edged sword: encouraging customers to conserve electricity helps the environment and delays the need for costly capital improvements, but spreading that advice also impacts the bottom line.
That was the message yesterday, Wednesday, when officials from Pacific Power visited Sunnyside for a series of meetings.
The company, based in Portland, Ore., provides power for 243 communities. That's one of the reasons Pacific Power's senior staff takes quarterly meetings on the road to visit and hear from those communities.
Yesterday was Sunnyside's turn and over lunch Pacific Power President Pat Reiten met with 30 business and community leaders from around the Lower Valley.
Reiten said this is the fifth consecutive year that power usage has declined. "We've never experienced that in 102 years of doing business," he said.
One of the reasons for that decline, he added, is manufacturing in southern Oregon has dropped considerably since 2008 because of the steep decline in new home starts.
Then there are efforts to help business, industry and homeowners conserve power use. One example is at JM Eagle in Sunnyside, one of the Pacific Power group's stops yesterday, where the utility company has helped the pipe manufacturer retool with energy conservation measures.
Pat Egan is the company's vice president of customer and community affairs, and he says helping businesses reduce energy consumption can help them stay alive during tough economic times.
Speaking of economic downturns, Reiten told the Daily Sun News during a visit with the editorial staff following yesterday's luncheon that Pacific Power's workforce is down 9 percent from 2008 levels.
Some of that has been from attrition, leaving posts unfilled when they become vacant. But the utility has also had to do lay-offs in the field and at headquarters in Portland, including 70 employees let go during the latest reduction in force.
"It's difficult, but we're not alone," Reiten said of laying-off workers.