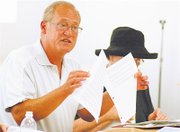 In their third meeting, members of a Lower Valley groundwater advisory committee finally agreed last night on how they will disagree.
A group of about 20 people representing diverse interests in the Yakima Valley, the committee was appointed to develop a plan for remedying nitrate-tainted groundwater that has affected many residential wells in rural areas of the Lower Valley.
During the session in Sunnyside last night, Thursday, some from environmental groups called for the ability to formally publish minority opinions that dissent with what most of the committee approves.
Farm interests countered that dissenting opinions need to be conveyed in the context of the majority opinion.
While agreement was eventually reached on how to disagree - essentially asking reporters to talk to folks from both sides of an issue - division was also apparent on the scope of the committee's work.
Some wanted to expand it to include bacteria and other contaminants, while others wanted to keep it to the original mandate regarding nitrates.
Facilitator Penny Mable reminded the group to work as a team.
"We want to work by consensus here," she said.
Vern Redifer is the county's public works director and later in the meeting he cautioned the group that time is of the essence.
He reminded the groundwater committee that state officials have already extended the deadline to submit a work plan, community outreach strategy and budget to detail how the groundwater group will move forward toward a solution on the nitrate issue.
The Department of Ecology initially wanted the planning phase wrapped up by next month, but that has since been extended to the end of this year.
There is $750,000 available towards developing the work plan. That money is being used to pay for costs that include Yakima County staff's time in working on the groundwater issue, for Mable's services and hiring a hydrogeologist.
Redifer's hopeful there will be money left over from the grant that can be used towards implementing the plan. State and federal grants may also be available to help Yakima County implement the work plan.
March 2014 is the deadline to actually implement the work plan, Redifer told the committee, and after that date grant funding will dry up.
He told the group that deadlines to get all this work done are fast approaching.
"If that doesn't scare you a little bit with how much work has to be done, then you're braver than I am," Redifer said.
Though members of the group don't see eye-to-eye, things seem to be moving in the right direction. There were thumbs up all around the table during an informal vote yesterday on how the groundwater planning work is proceeding.
"We may have differences but we all share an interest in groundwater quality," says Steve George of the Yakima County Farm Bureau. "As a process it's going fine."
John Fannin/Daily Sun News
Vern Redifer of Yakima County shares informational sources to help members of a groundwater advisory group during its meeting yesterday in Sunnyside.