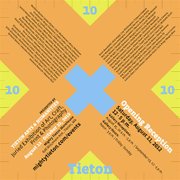 TIETON -Mighty Tieton, an incubator for artisan businesses, will this coming Saturday hold an opening reception for its annual juried art exhibition called 10x10x10xTieton.
The exhibit gets its name from the fact that art works entered in the exhibit must be no larger than 10 inches in any dimension.
The reception is set for Saturday, Aug. 11, from noon to 5 p.m. at the Mighty Tieton Warehouse Gallery, 608 Wisconsin Ave. in Tieton.
The exhibit will be on display from Aug. 11 to Oct. 11.
The warehouse gallery, formerly a fruit warehouse, will also hold receptions for Highland Community Days on Saturday, Aug. 25, from 10 a.m. to 5 p.m. and for LitFUSE, a poetry workshop, on Sunday, Sept. 23, from noon to 5 p.m.
The Mighty Tieton Warehouse Gallery's regular hours are Friday through Sunday from noon until 3 p.m.
About a dozen artisan businesses have started or expanded under the Mighty Tieton banner, ranging from a press and book bindery to a goat cheese creamery to a kite production facility.
Displays during the two-month 10x10x10xTieton exhibit will include print, photography, art and craft works.