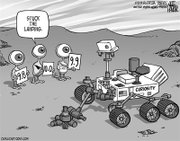 My husband is an Olympics nut.
It was one of the many things he warned me about before we got married, so I tolerate it and even enjoy watching a few events myself, but it can be slightly overwhelming. If it were humanly possible, he'd watch every single event during the two weeks of the Olympics.
This means I get to watch a lot of Olympics every two years (yes, he loves both the winter and summer games) and I have some observations about this year's event.
...The opening ceremony was uniquely British, complete with Mr. Bean, so I'm happy with it.
...American network announcers are not very good and are apparently paid by the word. It will be a great day when you can select "crowd noise only" during sporting events.
...Along that same line, getting rid of John Tesh and his tendency to call female gymnasts "pixies" was good, but who is this awful Ryan Seacrest guy?
...If my husband is allowed to watch beach volleyball, I'm allowed to oogle the male divers and water polo players.
...Saying "bloop!" every time a swimmer pops out of the water while swimming the breaststroke or every time a runner goes over a hurdle makes some events more fun to watch.
...Apparently it's not very sporting of me to suggest that male gymnasts be docked points for bad haircuts.
...Bicycling has the strangest events in the Olympics. In one they chase a motorized bike, in another they go as slowly as possible for a few laps.
...The banned substance list for the Olympics is so long and incomprehensible that it's a challenge to figure out which disgraced athletes might be telling the truth about taking something accidentally.
...While some events require undoubted athleticism to perform, that doesn't make them sports.
Overall, I'm not unhappy with my husband's love of the Olympics. It satisfies my desire for real-life drama in a big way, and some events (bloop!) are fun to watch.
Still, I'll be happy to see the final moments of the closing ceremony and get my husband back again, just a couple more days...
More like this story