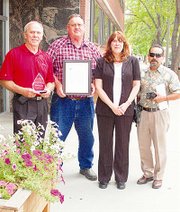 YAKIMA - In recent years more Americans are increasingly aware of environmentally friendly businesses and practices, and too, more people are concerned with sustainability of existing resources.
All the more, that forces government agencies to tighten restrictions on certain players in industry.
Towards that end, the Yakima Regional Clean Air Agency honored several individuals last week at its regular board meeting for exceptional work on improving air quality in Yakima County by presenting the agency's annual air quality excellence awards.
Jumping ahead of the curve in terms of environmental issues and laying the groundwork for air quality improvements were just a few aspects that earned a Sunnyside business and Mabton area farmer special recognition.
CanAm Steel Corporation in Sunnyside earned recognition from the agency for opting on its own to convert to the use of water-based paints, resulting in large reductions of hazardous air pollutants.
The Clean Air Agency's Executive Director, Gary Pruitt, said because of increasing public awareness and concern, governmental restrictions are ever increasing. But the Sunnyside steel company jumped ahead of the curve.
According to Pruitt, CanAm was previously required to obtain a special permit to be able to use certain coating paints on their steel creations. But now, the company has moved to a water-based paint that has extremely decreased its emissions of toxins into the air. Pruitt added, CanAm no longer needs the "special and expensive" permit, but still opts to keep it.
"Voluntary action catches on," said Pruitt of CanAm changing the coating paint before government regulations may have required it.
Pruitt added he hopes to one day work himself out of a job and having businesses like CanAm jump ahead of the curve is cause for "less regulations in the future."
Vice President and General Manager Roger Roudebush says CanAm internationally operates by 'guiding principles'.
"The seventh guiding principle is to be good corporate citizens," Roudebush said.
"That means we strive to respect the laws and regulations, protect the environment and encourage corporate and employee involvement in community."
Roudebush added that among the corporate CanAm company, the honors received last week are looked upon as prestigious.
"We are hoping for this kind of effort and recognition for all of our plants," he said.
Joining CanAm Steel in the ranks of the honorees last week was Mabton dairyman and veterinarian Dr. Bill Wavrin.
He received special recognition as an individual for his high degree of thoughtful, professional insight, industrial leadership and demonstrative participation in the Yakima Regional Clean Air Agency Dairy Emissions work group and concurrent Pilot Project for the Air Quality Management Policy for Dairy Operations.
"This is a good example of how government should work," Wavrin said.
As many corporations may know, the relationship between industry and government isn't always a pleasant one. But Wavrin says being a part of the work group and pilot program proves industry, community and government leaders can work together to help solve some of the environmental issues surrounding the Yakima Valley.
"It was constructive and progressive," he added.
Yakima Regional Clean Air Agency Public Information Officer David Caprile says Wavrin freely offered the work group a tour of his dairy farm in Mabton.
Sunny Dene Ranches is owned and operated by Wavrin and his brother, Sid Wavrin.
Caprile says Wavrin helped the group deepen its understanding of how dairy farms operate and he has a unique perspective of certain issues dairy farms may encounter.
"He's an expert nutritionist and highly respected within the dairy community," Caprile added. "He's also not afraid to disagree, which is much appreciated."
Others recognized at last week's board meeting for demonstrating air quality excellence included Jeld-Wen, Inc., Shoval & Company, the City of Yakima-Wastewater Treatment Plant and Fulcrum Environmental.