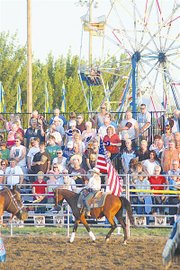 GRANDVIEW - Nearby carnival rides offered thrills and chills, but those were mild compared to the wild rides experienced last Saturday night during the rodeo finale in Grandview.
A highlight of the Yakima Valley Fair & Rodeo, the 2012 Pro-West Rodeo saw cowboys and cowgirls from throughout the Northwest entertain crowds in the packed Grandview grandstands.
Among local rodeo competitors, Cheyenne Allan of Mabton finished in the money with a second-place purse of $611 in the barrel racing event. Her time of 16.814 was narrowly bested by Pam Capper's clocking of 16.699 to earn her a first-place check for $738.
The biggest individual prize awarded during two nights of rodeo competition last week was in bull riding, where Tanner Bradley earned a purse of $1,440 with a final score of 77.
Next up in the winner's circle was Jacob Stacy, who held on to earn first-place honors in saddle bronc riding by posting a score of 76. The victory garnered him a prize of $969.
Stacy was the rodeo's lone double-winner, as he also earned the top spot in steer wrestling with a time of 4.77 seconds to claim a check of $660.
In the breakaway roping event, Jordan Crossley of Hermiston, Ore. came out on top with a first-place finish of 3.72 seconds to take home a $729 check.
The closest rodeo event of the night was in team roping. The highly competitive field saw the team of Tate Peterson and Kyle Hagins claim first place honors with a time of 5.07 seconds for the top prize of $700 each.
However, they barely outdueled the Minors, Jason and Jake, who were less than a tenth of a second behind at 5.16. Their take was $525 each.
In the tie-down roping competition, Brad Goodrich of Stanfield, Ore. finished on top with a time of 8.23 seconds. He claimed the top prize of $614.
Orlun McGuffin of Ellensburg proved his mettle in the bareback riding competition in Grandview's rodeo arena. The Pro-West circuit's top-ranked bareback riding competitor this season, McGuffin added to his season's winnings of $3,078 by staying on his horse Jabberwockie for a first-place score of 77 points. Earning the top prize at Grandview earned him another $601.
All told, the Yakima Valley Fair & Rodeo's Pro-West event paid out more than $14,000 in prize money.