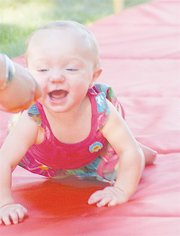 GRANDVIEW - And they're off!
In an 8-foot crawl four not-quite-toddlers battled it out to the finish line in hopes of earning top honors.
Actually, all these youngsters really cared about was reaching their mother's arms.
The Diaper Derby at the Grandview Fair & Rodeo has been an annual event for more than 20 years. And this past Friday evening, four crawlers were prepped at the starting line and gave it all they had.
Tagging her mother first for top honors was Averie Rodriguez, who completed the race in 10.91 seconds as she raced to her mother in hopes of a sweet treat.
In an effort to reach her mother first, Sofie Lyall rose up from her knees for a faster crawl. The audience was figuratively on the edges of their seats as this youngster was seemingly just shy of taking her first steps. Second to tap the finish line was Lyall, who finished the race in 17.63 seconds.
Third to finish the race was Baya Lenz. Chasing after her binky, she finished her 8-foot crawl in 41.93 seconds. Finally, Layla McMillan tagged the end of the padded mat in hopes of obtaining slobbery rights to her family's car keys in 48.97 seconds.
All four participants received special recognition for completing the race with ribbons and prizes.