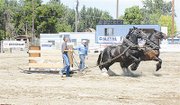 GRANDVIEW - More rapid than eagles his coursers they came, And he whistled, and shouted and called them by name: "Now Dasher! Now Dancer! Now, Prancer, and Vixen! On, Comet! On, Cupid! On, Donder and Blitzen!"
Well, they may not have been the famous names Santa calls out each Christmas Eve, nonetheless the likes of Buster, Bubba, Jake and Butch were being urged on rather vocally last Friday afternoon.
This year's team pull competition at the Yakima Valley Fair & Rodeo brought out six teams to test their strength against increasingly heavy loads in the hot sun at the Grandview fairgrounds.
The competition had three teams each in the lightweight (under 3,500 lbs.) and the heavyweight (over 3,500 lbs.) divisions. Each team was given two chances at a weight before being eliminated.
The first to leave the competition was Randy Davis of Prosser and his team of Butch and Bill, competing in the lightweight division.
Davis, competing in his first sled pull, was unable to hold the horses back before they could be hitched to the sled. His team got tangled in their harness. After sorting them out, Davis completed one more pull before bowing out of the competition.
Winning the lightweight competition was Richard Cameron of Ellensburg, whose team of shire horses Jimmy and Wally managed to pull 7,500 lbs. a distance of 18 feet 8 inches.
The heavyweight division got up to 8,000 lbs. before second-place finisher Carson Whitman of Ferndale bowed out.
To win the competition, Bill Martson of Pullman and his team of Percheron's, Jake and Bubba, pulled an 8,500 lb. load 11 feet.