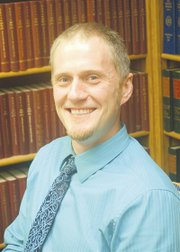 After more than four years as a public defender for Yakima County, Alex Newhouse was ready for a change.
"There was a very high work load," Newhouse says of the decision last month to open his own practice in Sunnyside. "I wanted to see my wife and children more."
Newhouse welcomes hard work, praising the influence of his father Steve - "I give my dad credit for that," he says - but with his own practice he is also able to set his own work schedule.
Practicing as Newhouse Law PLLC, he set up his practice at the Garrison law office at 516 S. Seventh St.
"Roger and Doug were very kind to invite me in and share office space with me," Newhouse says of the long time father/son legal team. "They have helped me out tremendously."
Roger Garrison says Newhouse is an asset to the office. "He's a rarity. He's a local guy and there's a shortage of lawyers willing to practice in small communities."
Newhouse's practice at this point focuses on defending cases involving controlled susbstances, juvenile offenders, domestic violence, DUI and medical marijuana.
"Everyone is presumed innocent. Everybody deserves a competent defense," he says.
Long term, Newhouse's goal is to eventually practice environmental law, including water rights litigation.
"It's a completely new area of the law for me," says the Gonzaga University alum, who for most of his life worked on the family farm.
Newhouse is now in the process of researching and learning about environmental law. He's also helped by the fact the Garrisons make themselves available to share their legal experience with him.
His focus is on helping Lower Valley residents, and in private practice he's able to spend more time with each client than the large docket he faced as a public defender.
"I'm looking forward to serving the people of our county as a private attorney," Newhouse said.