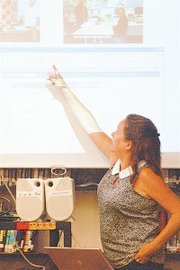 GRANDVIEW - It's education 2.0.
And this year, Compass High School students will have the chance to interact with their teacher via the internet.
Students in Kim Gregory's class at Compass High School will be using an internet site, Edmodo. The network is a secure place to connect and collaborate, share content and educational applications, and access homework, grades, class discussions and notifications.
At Monday night's Grandview School Board meeting, Gregory, along with the district's technological team, including Charlie Kriewall, spoke to directors about beginning to introduce higher levels of technology in the classroom.
The goal, whether or not the district gets the fanciest equipment around, is to offer students transferrable skills that extend beyond the classroom and will take them to successful college or professional careers.
"Our goal is still the same, to prepare students for college, work and life," Gregory added.
With Edmodo, students will have an entry task that is assigned to them via the network site. Students will also have the opportunity to chat with their instructor, and sometimes receive instant feedback on their work and progress in the class work.
For more information about the program, students, parents and teachers can contact district employees, or visit http://gsd200.edmodo.com.