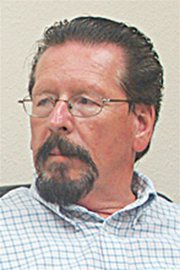 Frank Sweet, Sunnyside's interim city manager, was in custody this morning in the Yakima County jail facing up to five charges that include possession of stolen property.
Sweet was arrested in Selah at 2:48 a.m. today, Tuesday, according to the Yakima County prosecutor's office.
Charges sought by police include two counts of possessing stolen property, two counts of theft and one count of injuring or taking a public record.
The requested charge regarding public records, according to Washington state codes, involves destroying, falsifying or concealing public records.
The news comes just hours after the Sunnyside City Council last night decided to offer Sweet the city manager post on a permanent basis.
"He was doing a great job. It took us by surprise," Sunnyside Mayor Mike Farmer said this morning (Tuesday).
As for Sweet's future with Sunnyside, Farmer declined comment but noted the city council will likely meet in executive session to review the situation.
Sweet's arrest was also confirmed this morning by Selah Mayor John Gawlik, a 20-year veteran of Selah's police reserves.
Gawlik, who successfully campaigned for the position of mayor of Selah and took office this past January, was instrumental in Sweet leaving Selah's city supervisor post earlier this year. A few months later Sweet was hired as Sunnyside's interim city manager.
Selah City Hall officials would not detail the items allegedly stolen, instead deciding to wait on official comment until the Selah City Council meets later today.
According to an anonymous Sunnyside City Council member, an employee at Sunnyside's City Hall confirmed a search warrant was served and executed there last night in an effort to recover the items allegedly stolen by Sweet.
Sweet was scheduled for a preliminary hearing this afternoon (Tuesday) according to the prosecutor's office, which noted he has not yet formally been charged.