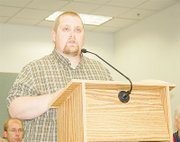 Speaking at the Sunnyside City Council meeting last night, Pastor Cameron Garcia called for the resignations of Deputy Mayor Don Vlieger, Mayor Mike Farmer and Interim City Manager Frank Sweet. Garcia's reasoning for asking the trio to step down is what he described as their active efforts to cover up sex trafficking of underaged girls in the Lower Valley.
The dispute centers around the activities of Sunnyside's Promise in sex trafficking awareness, according to Garcia.
"Both Mayor Farmer and Deputy Mayor Vlieger tried to stop Promise from doing something about the trafficking by threatening their funding," stated Garcia.
He said that Vlieger referred to the victims of sex trafficking as "crack whores looking for their next fix."
Garcia started his statement with the description of talking with a victim of sex trafficking.
"It was easily the worst two hours of my life," he said. "I sat there and listened to this little girl describe how she was groomed by our local gangs at the age of 11 years old. That a local gang sold her over and over again to gang members, farm workers and local businessmen. By sold I mean made to have sex for the profit of the gang."
Garcia said he was asked by the victim to get the word out that this was happening in the community, and as a result had his integrity questioned by Vlieger.
The pastor of Sunnyside's Oasis Community Church contended that the leadership of the city council had actively worked to prevent Sunnyside's Promise from fighting the problem.
"I have worked closely with the staff at Promise over the last six months and I have seen how this council and the interim city manager have beaten down the leadership of Promise, because of the anti-sex trafficking work," said Garcia.
"On June 11th it was brought up that Promise had not paid the city the rec fees to the city as stated in their contract. Mr. Sweet drug this on for nearly two months until he was confronted with the contract and shown that the city had paid Promise roughly $13,000 less than they were supposed to. A number far greater than what Promise owed the city," Garcia continued.
After the meeting, Sweet described the money discrepancy as an accounting issue by Sunnyside's Promise.
Garcia did not receive any response to his request for the resignations from Vlieger, Farmer or Sweet during the meeting.
Sunnyside resident Jim Slinker, the former director of the Sunnyside-based Young Life group, also stood to state that he is "all for the kids" whether or not they are in gangs. He asked the council to make their decisions based on the value of human life.
"I just want you to think about those kids, whatever decisions you make," he said. "I'm amazed at the indifference of the community."
Nathan Gill, also a resident of Sunnyside, spoke on how he worked with children who were in danger of joining gangs while he was still in high school.
"We all know we have a gang problem," he said.
"It will take time and it will take money to see this community change. And it will take young people, it will take old people, people who have jobs, to support kids' dreams and visions in their lives. Will you, as a city council, stop playing games and say 'we will do what it takes'? And if not, I ask you, just don't be on the city council."
Also speaking on the subject of Sunnyside's Promise was Suzi Carpino, who invited all members of the council to a human trafficking exhibit called "Sold" to be held at the Sunnyside Community Center this coming weekend.