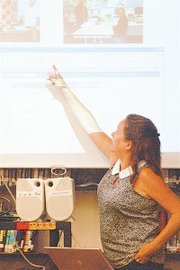 The Sunnyside City Council last night agreed to form a committee to negotiate a contract with Interim City Manager Frank Sweet for the permanent position of city manager.
Most of the council members stated that they were pleased with the work Sweet has accomplished so far, but Councilman Jason Raines asked Sweet to answer a question before he would throw his support behind the city administrator.
"We have, as a council, this year renewed our support for the gang elimination strategy," Raines said. "There are some members in the community who don't like that and they don't like the idea of gang members being called the enemy... What I want to know, Mr. Sweet, gang members who commit rapes and murders in the City of Sunnyside, are you willing to call them the enemy?"
Councilwoman Theresa Hancock protested that the vote under consideration was a question of whether or not to work up a contract, not a job interview. She argued that the question was inappropriate, but her objection was ignored, and Raines continued.
"I would like to hear his thoughts as to whether a person who fits that description would be considered an enemy. Would you agree with that, Mr. Sweet?"
"I believe anybody who breaks the law, anybody who does violent crimes, should be punished," responded Sweet.
Raines stated that he was satisfied with the answer and supported proceeding forward with negotiating a contract to make Sweet the permanent city manager.
Mayor Mike Farmer praised Sweet, then noted his opposition to a candidate search.
"I would hesitate to spend the money and go out and do a candidate search and then end up with what we've got," he said. "I don't think we can find anything better. We have a proven product here."
Councilmen Jim Restucci, Nick Paulakis and Mayor Farmer were appointed to the committee to negotiate the contract with Sweet and bring it back to council for approval.