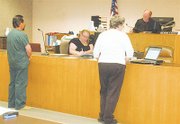 YAKIMA - Judge Michael McCarthy found probable cause on two of five requested charges against Sunnyside Interim City Manager Frank Sweet.
That's the result of a preliminary hearing held yesterday, Tuesday, in the basement of the Yakima County Jail, where Sweet was held overnight.
McCarthy withheld judgement on allegations by Selah police that Sweet removed or destroyed official city of Selah documents when he was that city's supervisor.
He was also hesitant about moving ahead with allegations of second degree theft and possession of stolen property.
"There's no indication as to what's missing," McCarthy said of the second degree counts during Sweet's appearance.
The judge, however, did find sufficient probable cause for claims against Sweet by Selah police involving third degree theft and possession of stolen property.
The three charges he reserved ruling on are felony crimes.
McCarthy noted yesterday's hearing doesn't indicate guilt or innocence on any of the allegations. The Yakima County prosecutor's office has until tomorrow, Thursday, to file formal charges against Sweet.
Sweet, 64, was released yesterday afternoon on his own recognizance. His next court appearance is scheduled for 9 a.m. next Tuesday, Aug. 21.
Susan Arb is the county's senior deputy prosecuting attorney, and she says a decision has not been made on which charges will be filed tomorrow.
Affidavit claims laptop computer stolen,
documents destroyed
In an affidavit filed with the county prosecutor's office by Selah police, it's alleged Sweet stole a laptop computer and external hard drive belonging to the city of Selah.
Selah police contend Sweet took the items when he left the city's employ on Jan. 31.
During his last week in office there, the affidavit alleges that Sweet deleted several documents and e-mails from the city of Selah's computer system. Officers also contend he copied files onto his own personal thumb drive.
Monica Lake, executive assistant for the city of Selah, provided oral and written testimony, the affidavit states, that Sweet shredded or recycled "almost all paperwork in his office during his last week on the job."
The affidavit notes that on May 30 a search warrant was executed for Sweet's work station at Selah City Hall. That search, the affidavit claims, showed that 151 city documents and 154 e-mails related to city business were removed or destroyed by a user identified as "fsweet."
Further analysis reported to Selah on Aug. 9, claims "fsweet" moved 42 city of Selah files to an e-drive or thumb drive on July 13, 2010. Half of the files are considered lost, the city says in the affidavit.
The Aug. 9 report was followed by a search warrant served at Sweet's home this past Monday night and his arrest early Tuesday morning when he was booked into the county jail.
Police say in the affidavit that an external hard drive and Toshiba laptop belonging to the city of Selah were found at Sweet's residence.
Sweet, Selah's city supervisor for nearly 20 years before his dismissal by current Mayor John Gawlik, told police the laptop and drive were given to him by former mayor Bob Jones.
The former mayor, Sweet reportedly told police in the affidavit, said he could have the equipment because it "wasn't worth anything and to just keep it."
The affidavit reports Sweet initially denied destroying records at Selah City Hall, then later admitted he deleted "some" e-mails and "transferred some of the e-mails to his thumb drive."
Selah police also contend they "located numerous piles of what appeared to be official city of Selah public records and site plans" in Sweet's home.
Sweet responds
Allegations against Sweet are retaliatory efforts by the city of Selah.
That's according to comment Sweet's attorney, Tyler Firkins of Auburn, made to the Daily Sun News this morning.
"Not only do we believe that this case will be dismissed almost immediately because the police acted improperly, but also because the facts don't support the charge," Firkins asserted. "It is very likely that we will pursue a civil lawsuit against the City of Selah."
Firkins also called for the public to wait before jumping to conclusions about Sweet.
"We would ask that people withhold judgment and be patient while we gather evidence that will show that the city's action is retaliation against Mr. Sweet," Firkins said. "We will be filing a motion to dismiss after we enter our notice of appearance based on evidence that we are currently gathering."
Sunnyside aftermath?
The search of Sweet's home and ensuing arrest happened just hours after Sunnyside's city council indicated a desire to hire Sweet as the city's permanent city manager.
That may change.
The Sunnyside City Council was scheduled to hold an executive session at 1 p.m. today (Wednesday) to review Sweet's employment status.
According to a notice issued by the city yesterday afternoon, the executive session was to be followed by an open meeting and possible action regarding Sweet's employment status, as well as possibly appointing a new interim city manager for Sunnyside.
"Mr. Sweet is not in his office today, but he is still employed by the city of Sunnyside," Sunnyside Mayor Mike Farmer said this morning. "There has been nothing done one way or another regarding his employment. That will be addressed in the open meeting today."