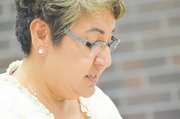 GRANDVIEW - A group of dog owners in Grandview want to establish a dog park.
Becky Cantu is one of several members of the group that is calling itself Friends of the Dog Park.
Last night she told the Grandview City Council about the efforts of the group, which is currently focused on exploring fundraising possibilities for a future dog park in Grandview.
The Friends of the Dog Park, said Cantu, has hopes of establishing a dog park on Grandview's Willoughby Road near the city's public works building.
One fundraising possibility, Cantu told the council members, is hosting a mock dog park for dog enthusiasts.
She said the Friends of the Dog Park are also exploring the possibility of having students in the Grandview School District name the park.
Currently the group is busy obtaining bids for fencing the proposed park. The highest bid submitted, she said, was $42,000. However, the group has not yet spoken with local businesses capable of helping with the fencing needs.
Cantu, redirecting her presentation towards possible fundraising campaigns, said the Friends of the Dog Park believe working with merchants in Prosser might also be wise.
"The wine tourism industry is strong there," she said, stating tourists often bring their dogs along on trips to Prosser's wineries.
Those tourists, said Cantu, might be interested in having a park for their companions to roam.
"After we complete the fundraising for the fencing, we would look at other needs for the park," Cantu said, stating trees and other features for the park are a secondary concern.
Turning to City Administrator and Public Works Director Cus Arteaga, she said the city has been supportive of the group's efforts and it was Arteaga who suggested three possible sites for the proposed dog park. One of those sites was the Willoughby Road location.
Arteaga said the city council would need to approve the location before a park is actually established. He said a formal proposal will likely be presented to the council in the near future.
Hearing about the group's efforts, Mayor Pro Tem Pam Horner suggested that Cantu and the Friends of the Dog Park explore possible grant funding opportunities.
"You should probably talk with Mike (Carpenter)," she said, suggesting the group speak with the parks and recreation director to see if there are any grants available for recreational opportunities "...because this is a fitness issue."